Date

City

Belo Horizonte, Minas Gerais, Brazil

Venue

Address

Details

A competição será no 3º andar do prédio "Rainha da Sucata"

Organizer

Pedro Roque

WCA Delegate

Contact
Information

As inscrições poderão ser feitas até o dia 12/09/17.
O valor das inscrições será de R$ 20 a serem pagos no dia do campeonato.
Para mais informações consulte a aba "inscrições".
Events

Competitors

56
Registration period

Online registration opened and closed .

Registration requirements

This competition is over, click

here

to display the registration requirements it used.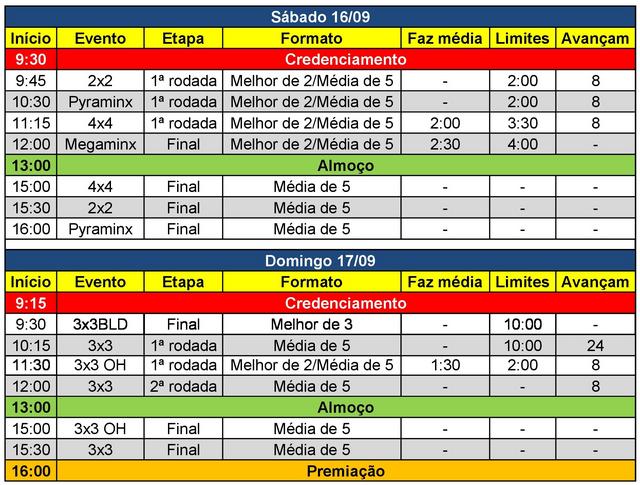 O valor da inscrição será de R$20,00 a serem pagos no dia do campeonato e as inscrições são abertas a qualquer pessoa, de qualquer nacionalidade. É imprescindível ter lido as regras da WCA. A entrada para o público é livre.
Inscreva-se aqui . Veja a lista de inscritos aqui.
Você só precisa saber resolver o cubo para se inscrever, não importa em quanto tempo. Se desejar fazer alguma alteração nos eventos em que vai participar, basta escrever um email para ronan.jorge@hotmail.com solicitando a alteração.
As inscrições (a não ser para o 3x3) serão encerradas no dia 12/09/2017 às 23:59h. Inscrições no dia do campeonato só estão abertas para o 3x3x3. Caso desista de alguma modalidade, por favor, comunique à equipe de organização o quanto antes.
Visando ao bom andamento da competição, ao se inscrever em uma categoria, você se compromete também a ajudar como juiz ou embaralhador nessa categoria (conforme previsto nas regras da WCA). Dessa forma, a competição se torna auto-sustentável, e as atividades são divididas entre todos os participantes, não ficando pesado para apenas alguns. Foram feitos pelo menos dois grupos em cada modalidade. Em um dos grupos você compete e no outro ajuda a embaralhar ou sendo juiz dos competidores.
Time limit
If you reach the time limit during your solve, the judge will stop you and your result will be DNF (see Regulation A1a4).
Format
The format describes how to determine the ranking of competitors based on their results. The list of allowed formats per event is described in Regulation 9b. See Regulation 9f for a description of each format.